Concert "Sounds of Erhu and Yangqin – New Year Feast -"
Enjoy Sounds of Traditional Chinese Music Instruments
Celebrate Lunar New Year with Erhu and Yangqin with recitaion!
Information
Date/Time
30 January, 2022 (Sun.)
Open 13:30 / Start 14:00
[Postponed]
13 March, 2022 (Sun.)
Open 15:30 / Start 16:00
Vanue
Akiyoshidai International Art Village Concert Hall
Price
General 2,000yen / Student 500yen
[General Seating]
FriendsNet members 20% discount
Player
Jiang Tao: Erhu
Shiwen: Yangqin
Atsuko Matsubara: Reading aloud
Flyer
PDF
Ticket Information
Ticket reservation is available from 1st December
Ticket agency
Akiyoshidai Internatinal Art Village 0837-63-0020
Program
Yangguan-sandie, Soshu Yakyoku, Delivering the Communal Grain,
Music & Reading "Sukh's White Horse" and more
Players
Jiang Tao: Erhu
Born in Heilongjiang, China. A member of Chinese Musicians' Association Erhu Association.
Started Erhu from 10 years old under his father who is Erhu teacher, and had been accepted into Harbin Normal University.
Studied Erhu under Huang Wenhui at the university. He also teached Erhu at his father's Erhu school.
After graduated, he was active as a player and a teacher. He won the 2nd prize at the 2nd Heilongjiang solo competition for Junior high and High school students in 1999 and Gold prize of lecturer/teacher category at Heilongjiang the 11th Qiqihar area competition in 2006.
Moved to Japan in February, 2007. Now he is active based on Yamaguchi as an Erhu player and also teacher at Chinese Erhu School Yamaguchi/Kitakyushu branch school.
Shiwen: Yangqin
A member of the Chinese Yangqin Institute and China Nationalities Orchestra Society.
Born in Heilongjiang, China. She started Yangqin from 13 years old under Wang Fushan and continued to learn under Xie Guangfu and Prof. Liu Yuening of Central Conservatory of Music.
Moved to Japan in December, 2001. She plays and teaches Yangqin and Erhu. Her performance with reliable technique, delicate and dynamic expressiveness gives the audience a fresh feeling




Atsuko Matsubara: Recitaion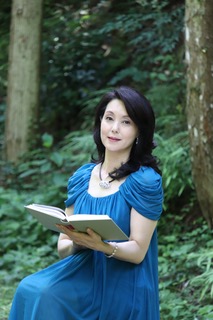 Lives in Ube city. Representative of Personality Office AUBE.
After working as a contract anchorperson/reporter at NHK Yamaguchi, she is now active as a freelance presenter. Recently she is in charge of radio programs at FM Kirara and FM Smile Wave.
She is in charge of many ceremonies and events as a moderator (ceremonies, celebrations, events, concerts, bridals, etc.) and narration for CM and PV. In addition, she hold speaking lectures and business etiquette training.
She performed in recitaion such as "Gauche the Cellist" "Night on the Galactic Railroad" by Kenji Miyazawa, "Car color is Sky color" by Kimiko Aman, "The Story of Mimi-nashi-Hoichi" by Yakumo Koizumi, "The Operating Room" by Kyoka Izumi, "The Dish Mansion in Ban-cho" by Kido Okamoto, "Peter and the Wolf" "Romeo and Juliet" by Prokofiev and Chinese folktale "Silver Bracelet."