Akiyoshidai International Art Village
As a base for expressive and creative activities of both international and domestic artists, "Akiyoshidai International Art Village(AIAV)" was constructed August 1998, in Shuho Town next to The Akiyoshidai National Park, which beautiful limestone landscape was formed over three hundred million years ago.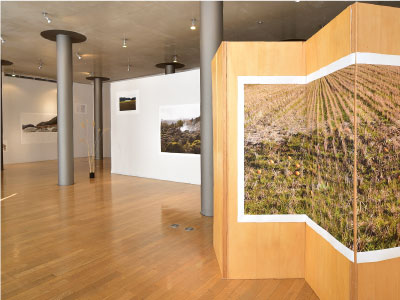 This art village is fully equipped for various artistic activities such as music, art, dance and drama. We focus on the Artists In Residence Program and expand cooperative programs with international and domestic organizations. We also hope to hold regional programs and promote a beneficial exchange between resident artists and local citizens.
By gathering artists from all over the world and developing their creative activities, cultural information from this region will spread internationally.
Concept
Art space released from the noise of everyday life
Akiyoshidai International Art Village (AIAV), designed by the architect Arata Isozaki, was founded in 1998 with the aim of providing a platform for artists in residence as well as for a variety of art forms and cultural activities. AIAV's main hall has a capacity of 300 and its residence hall can house 100, and the village also features a restaurant, seminar room, studios, gallery and café.
AIAV is located far away from the noise of everyday city life and is surrounded by natural resources. Isozaki himself referred to it as an "archipelago", and it consists of many different facilities. The term 'village' suggests that AIAV is not a single giant building but rather a collective of small neighboring buildings reminiscent of a traditional Japanese village. Unlike its natural surroundings, which forms are continuously changing, the square formed architecture is rigorously composed and this particular juxtaposition makes the whole scape of AIAV picturesque.
Guidance of each facility
Main Building
Accommodation Building
Technical Overview of the Facility
Name
Akiyoshidai International Art Village (AIAV)
Location
50 Akiyoshi, Shuho-cho, Mine-city, Yamaguchi
Inaugurated
August 25, 1998
Premises
320,000㎡
Building area
Main Building 2,882㎡
Accommodation Building 2,594㎡
Total floor area
Main Building 5,164㎡
Accommodation Building 2,594㎡
Structure
Main Building Reinforced concrete; partially steel-framed
Village Housing Reinforced concrete
Floors
Main Building 1 underground floor, 3 floors above ground
Village Housing 1 underground floor, 2 floors above ground
Parking
150 spaces
Virtual Tour
Permanent Works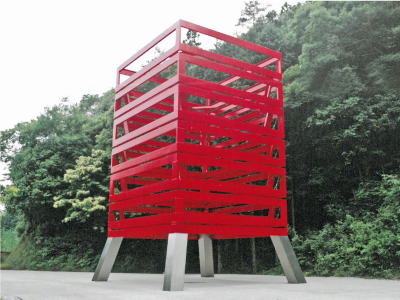 Untitled NO.218-1998 (Yonekichi Tanaka)
The gate of the Art Village is located in narrow gap between the hills. You start from the very narrow space of the gate, then a little path leads you along to the broader space. This clairvoyant directional movement adds an ideal aspect to the village. The art of this gate can be symbolic of the whole village. Making everything artistic does not merely mean harmony. The drastic creation of the environment does not come about until the tension that is strong enough to attract everything is generated. As you go farther beyond the gate, you will enjoy the feelings of how spacious the land is, how deep the green color of the mountains is and how high the sky is.
"PULSE OF THE EARTH" ancient resonance (Takeshi Tanabe)
A percussionist, N, is absorbed in playing his instrument on the field of karst. He crossed a border in space. Completely in harmony with the field, he came to Akiyoshidai from far-away Big Bang of the Universe, saw the birth of the earth and created Japan and then Akiyoshidai. There an ocean was formed three hundred million years ago. The percussionist's pulse laps over the endless resonance of the rippling waves that never stop traveling from the past and present to the future. We do not sense when he disappeared but his enormous creation then appears as a pulse of the earth that never diminishes.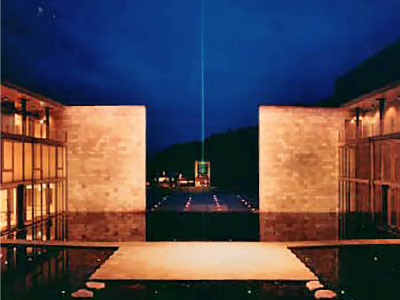 Laser 1998 Kazuhiko MIWA Project (Kazuhiko Miwa)
A light is emitted to the Ancient land of Akiyoshidai
When you move to the darkness
And then you stop quietly
Something happens