Make with Wool, Take Photos in Nature.
workshop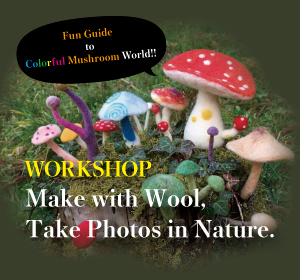 Fun Guide to Colorful Mushroom World
The workshop is consisted of 2 steps. Making a unique mushroom by felting, and photographing in nature.

Photos taken in the workshop will be exhibited at photograph exhibition in July.
Workshop
Make with Wool, Take Photos in Nature.
Needle Felting Workshop + Photo Session
[Part 1 : Make] Prick fluffy wool with a needle and make a unique mushroom.
[Part 2 : Photograph] Put the mushroom in natural scenery, and SNAP! How's your photo like?
| | |
| --- | --- |
| Date&Time | 5 June, 2022 (Sun.) 10:00 – 15:30 |
| Venue | Akiyoshidai International Art Village Seminar Room 2, Outsite stage |
| Eligible participant | 4th grade of elementary school or older |
| Capacity | 10 people |
| Lecturer | Tabisuru Youmou |
| Admission Fee | 1,500yen (application required) |
| Items to bring | Lunch, Smartphone or Digital Camera with SD card |
| Flyer | PDF |
What do we do?
1. Idea Sketch…
"What does mushrooms shaped like?" "New mushroom I saw in my dream!" Let's skech your ideas.
2. Working [first half]…
While referring to lecturer's explanation and hands, Let's start felting with a needle! Choosing color from colorful wool is also one of the ways to enjoy.
— Lunch Break — (1 hour)
3. Working [latter half]…Prick with a needle…
4. Taking photos…
Go outside and place the finished work in nature. Let's take photos!
5. Enjoy finished works!…
What kind of pieces everyone made? Share the result of the workshop together.
Apply
Please email us with applicant's Name, Date of Birth, Gender, Address and Phone Number.
Lecturer
Tabisuru Youmou (travering wool)
Live in Ato, Yamagichi city. Wool Sculptor Duo by Denko Kaku and Norie Sako. Since Kaku fascinated with brown bear parent and child that he met in Shiretoko, they are creating wild animals using only wool, and taking photos of them at rich nature in Ato, Yamaguchi.
Related Event
Tabisuru Youmou Photograph Exhibition "Dreaming Creatures"
Wool Sculptor Duo "Tabisuru Youmou" is taking photos of their felted works placed in nature. This exhibition is the first "photo exhibition" to exhibit those 'photographic works.'
Exhibition of results of the workshop on 5 June is also held in the same period.
Please feel the warmth of their gaze to nature and animals from the exhibition.
| | |
| --- | --- |
| Period | 9 July – 28 August, 2022 / 10:00 – 17:00 |
| Venue | Akiyoshidai International Art Village Gallery |
| Ticket | Free |