Ishikawa Takanori Saxophone Recital
concert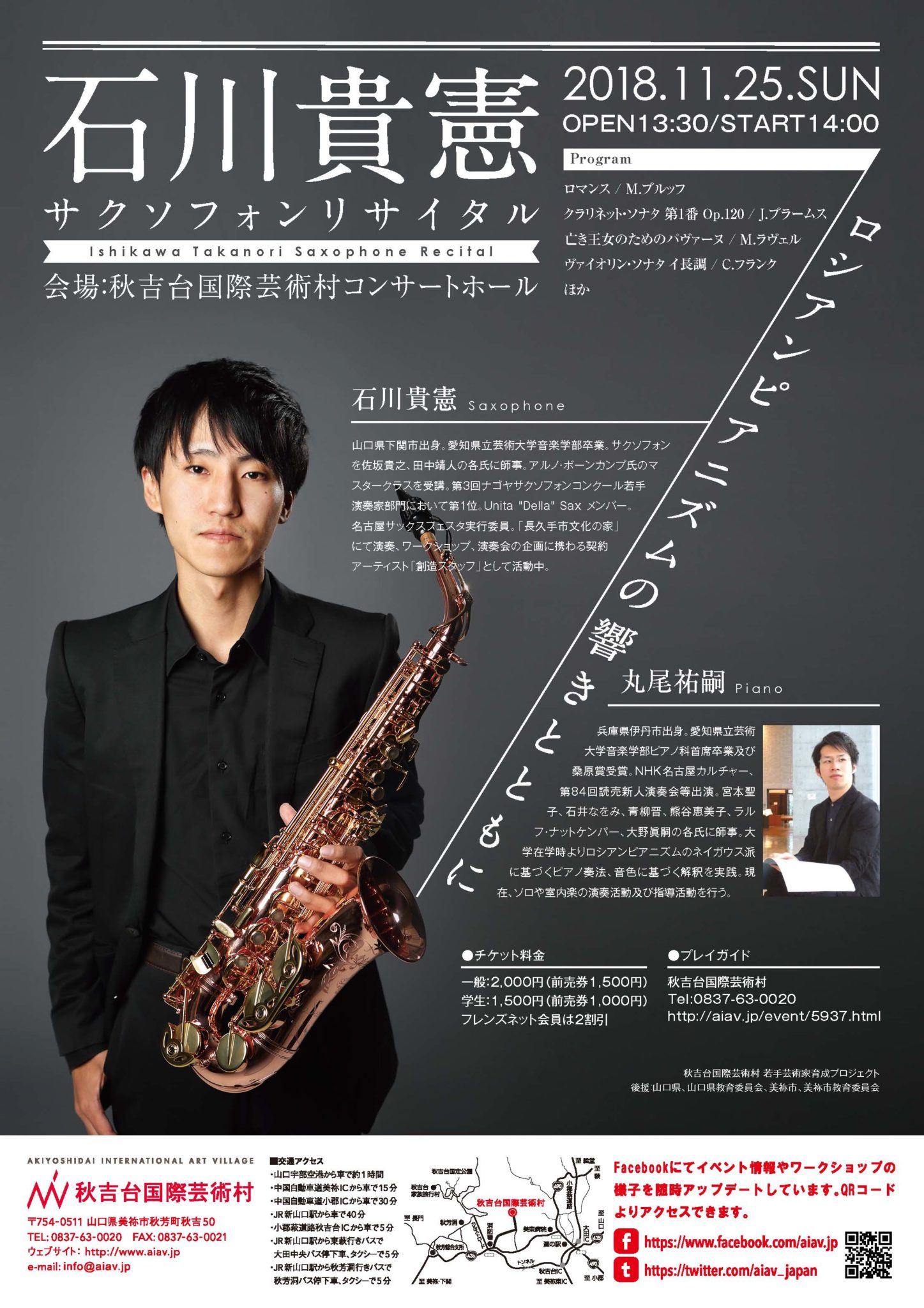 – With the Sound of Russian Pianism -
The recital will be held by a young Saxophone player, Takanori ISHIKAWA from Shimonoseki-city, Yamaguchi. To aim at "metled and resonance sound," they provide their exquisite ensemble which they try to grasp the music as "one sound" from the Saxophone and the Piano.
Information
Date
25th November, 2018 (Sun.)
Open 13:30 / Start 14:00
Venue
Akiyoshidai International Art Village Concert Hall
Performer
Takanori ISHIKAWA(Saxophone), Yuji MARUO(Piano)
料金
Adult 2,000yen (advance ticket 1,500yen)
Student 1,500yen (advance ticket 1,000yen)
*FriendsNet Members Discount 20%
Akiyoshidai International Art Village Tel:0837-63-0020
Online form is available to reserve a ticket.
The event has ended
PDF
Download the flyer here
Program
M.Bruch Romance
J.Brahms Viola Sonata No.1 Op.120
M.Ravel Pavane pour une infante défunte
C.Franck Violin Sonata in A Major
and more.
Performer
Takanori ISHIKAWA, Saxophone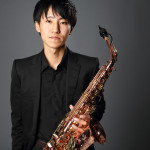 Born in Shimonoseki, Yamaguchi. Graduated from Department of Music at Aichi University of Arts. He studied the Saxophone under Takayuki Sasaka and Yasuto Tanaka. Took the Master classes of Fabrice Moretti and Arno Bornkamp.
He won the first prize in Young Player Category at the 3rd Nagoya Saxophone Competition, a prize in Woodwinds Category at the 15th OSAKA International Music Competition.
He is the member of Unita "Della" Sax and Nagoya Academic Winds. The member of the executive committee of Nagoya Sax Festa. He is also performing in the trio Tomoshibi of Saxophone, Cello and Piano. He is working as 'Creative Stuff' at Nagakute Cultural Center. He is engaged in performing in many cases such as outreach to juvenile facilities or schools.
Yuji MARUO, Piano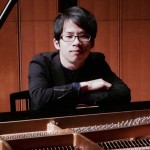 Born in Itami, Hyogo.
He won the bronze prize in F grade, and winner in G grade at PTNA Piano Competition. He won the prize at Kobe Art Center Piano Competition and hold the solo recital. The 2nd prize in the 6th International Rosario Marciano Piano Competition. The 3rd prize (there were no first and second prize winners that year) at the 2nd Tokyo International Piano Competition.
He performed at concerts at Schlitz International Piano Academy (Germany), at Consulate General of Russia, NHK Culture Center Nagoya, Aichi University of the Arts, and Tokyo Bunka Kaikan.
Aoyama Music Foundation supported student. Graduated at the top of his class from Aichi University of the Arts and also won Kuwabara prize. He studied the Piano under Seiko Miyamoto, Naomi Ishii, Susumu Aoyanagi, Emiko Kumagai, Ralf Nattkemper and Shinji Ohno.
AIAV Young Artists Support Project