Mitsunori Kimura Exhibition & Artist Talk "There is no monkey here"
AiR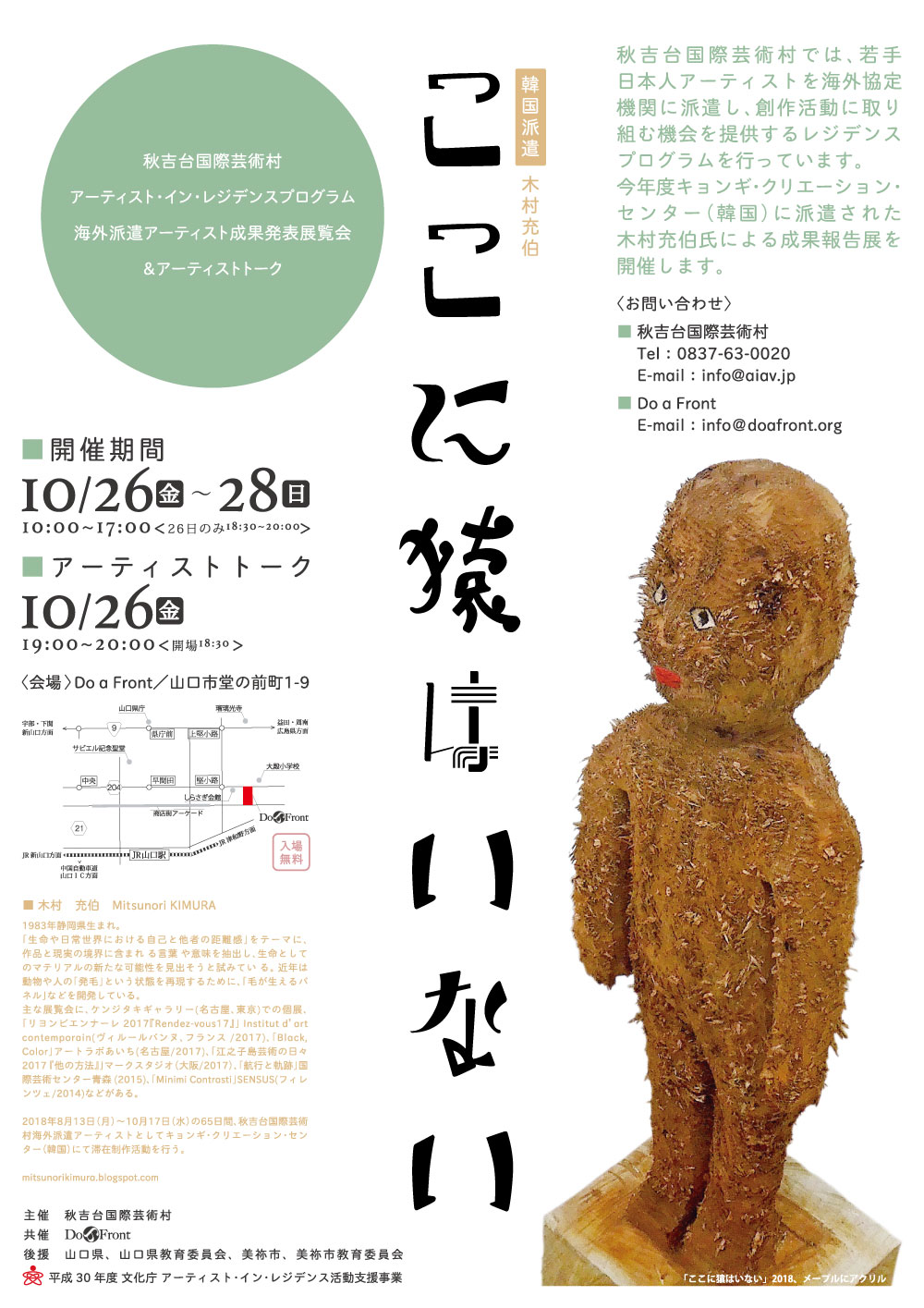 Akiyoshidai International Art Village Artist in Residence Program
Overseas Dispatch Artist Exhibition & Artist Talk
To South Korea / Mitsunori Kimura
Information
Date
Exhibition 26th – 28th, October 10:00 – 17:00
   *26th October/ 19:00 – 20:000:00
Artist Talk 
    26th October 19:00 – 20:00 (Open/ 18:30)
Venue
Do a Front (1-9, Donomae-cho, Yamaguchi-city) google map
Fee
Admission Free
Contact
Do a Front
【E-mail】 info@doafront.org
PDF
Download the flyer here
Artist
Mitsunori KIMURA
Mitsunori Kimura was born in Shizuoka, Japan in 1983.
He has been trying to find new possibilities for materials as life, by extracting the words and the meaning included in the boundary between artworks and realities on the theme of the life and the distance between oneself and others. He has invented "hair-growing panel" to reproduce a condition of "growing hair" on the surface like hair in recent years.
His selected exhibitions include: solo exhibitions at Kenji Taki Gallery (Nagoya and Tokyo) and group exhibitions Biennale de Lyon 2017 'Rendez-vous' at Institute d'art comtemporain (Villeurbanne, 2017), Black, Color at Art Lab Aichi (Nagoya, 2017), Navigation and Trajectory at Aomori Contemporary Art Centre (Aomori, 2015), Minimi contrasti at SENSUS – Luoghi per l'Arte Contemporanea (Florence, 2014)

He stayed Gyeonggi Creation Center(South Korea) for 65days from 13th August to 17th October, 2018 as an exchange artist between GCC and AIAV.
Organizer Akiyoshidai International Art Village
Co-host Do a Front
Supporter Yamaguchi Prefecture, Yamaguchi Board of Education, Mine City, Mine City Board of Education
2018 Agency for Cultural Affairs Artist In Residence Support Program
Contact
If you have any questions, we accept by phone or email.
Please feel free to contact us(except on closed days).
TEL: +81-(0)837-63-0020 
(Reception time: 9:00〜17:00) E-mail: