Art Room "Let's Meet, Listen to, Ondes Martenot"
workshop
Let's Meet, Listen to, Ondes Martenot
Ondes Martenot can be said that it is the origin of the electric musical instrument born in France.
This is the workshop to meet the unusual musical instrument!
Information
Date
7th October, 2017 (Sat.) 14:30
Venue
Akiyoshidai International Art Village Seminar room 2
Participation Fee
500yen/person
*Reservation is required.
PDF
Download the flyer here.
Lecturer
Ondes Martenot Player : Tomomi KUBO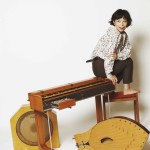 She went to France after graduating from Kunitachi College of Music. She won the 1st prize at the course of Ondes Martenot at Conservatoire France National Boulogne-Billancourt and graduated from the school. She started performance activities when she was studing. After she came back to Japan, she performed at Karuizawa International Music Festival, Tokyo Experimental Festival vol.9, movie "Juon", TV drama "Platonic" (music by Koji UENO), CM (JT) and more. Now she has been involved in various activities such as collaboration performance with contemporary dance, lecture concert and performance of new pieces. She studied Ondes Martenot under Takashi HARADA and Pascale Rousse-Lacordaire.
Official Website | tomomikubo.net