István Kohán & Miyuji Kaneko Duo Recital
concert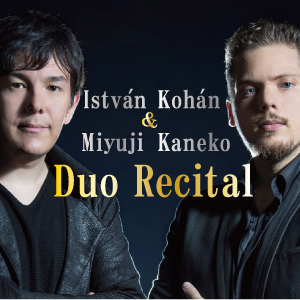 To celebrate the 150th Anniversary of Japan-Hungary Diplomatic Relations, we will hold the duo recital by the Hungarian Clarinet player István Kohán and the Japanese Pianist Miyuji Kaneko who studied in Hungary from the age of 6.
Based on Hungarian music, they perform the special program!
Information
Date
23rd June, 2019 (Sun.) 14:00 start/ 13:30 open
Venue
Akiyoshidai International Art Village Concert Hall
Ticket
Adult 3,000yen/ Student 1,000yen
*FriendsNet Member 20% discount
Ticket Agency
-Akiyoshidai International Art Village Tel:+81-837-63-0020
-LAWSON Ticket L-code:61786
PDF
Flyer
Program
Brahms: F.A.E. Sonata III. Scherzo
Brahms: Liebestreu
Liszt: Liebestraum (Piano Solo)
Liszt: La Campanella (Piano Solo)
Liszt: Hungarian Rhapsody No.2 (Piano Solo)
Liszt=Kohán: Hungarian Rhapsody No.12
Brahms: Clarinet Sonata No.1
Brahms=Kohán: Hungarian Dance Suite
Bartok: Romanian Folk Dances
Monti: Csardas
*There is a possibility that musics and their order may be changed.
Performers
István Kohán
Clarinet soloist from Hungary. He comes from a musician family and started to learn clarinet under his father. He was admitted to Béla Bartók Music Conservatory under László Kraszna when he was 12. He won many prizes at various international competitions while he was in Hungary such as the 1st prize at J.Richter Clarinet Competition, the 1st prize at International Contest for Clarinet in Carlino, the 1st prize at "Anton Eberst" International Clarinet Competition, 1st prize at ICA Young Artist Competition. He moved to Japan in July 2013 after he graduated from the Ferenc Liszt Academy of Music. He won the 1st prize and audience award at the 11th Tokyo Music Competition in 2013. In 2015 he won Hungarian Art Award 'The Junior Prima Award,' the 1st prize and Grand Prix at the 4th Akiyoshidai Music Competition, the 1st prize and audience award at the 26th Japan Woodwind Competition, the 1st prize, audience award and E.Nakamichi award at the 84th Japanese Music Competition. He finished his postgraduate studies at Tokyo College of Music in 2016. In 2017 got the Aoyama Music Award. He performed with orchestras in Japan as the New Japan Philharmonic Orchestra, the Tokyo Philharmonic Orchestra, the Kioi Sinfonietta, Győr Philharmonic Orchestra(Hungary), Tokyo College of Music Symphony Orchestra with conductors as Antonio Mendez, Toshiaki Umeda, Masahiko Enkoji, Kazumasa Watanabe, Kazuki Sawa, Kalman Berkes and Shigeo Genda. Now he has been active not only in chamber music and doing solo recitals, but also as the composer since 2014.

István Kohán Official Website
Miyuji Kaneko
At the age of six, Miyuji Kaneko moved to Hungary and studied piano under Zsuzsa Cs. Nagy at the Bartók Elementary School of Music. In 2001, he entered The Special School for Exceptional Young Talents of the Franz Liszt Academy of Music and studied under Gabor Eckhardt, Gyongyi Kevehazi and Rita Wagner. After finishing all courses, he returned to Japan in 2006. He was admitted to Tokyo College of Music High School and studied under Kazune Shimizu, Akiyoshi Sako and Katsuko Miura. He has won numerous prizes at international music competitions, including Bartók World Competition in 2008. In 2012, he won The 22th Idemitsu Music Award. He performed with orchestras as the Hungarian National Philharmonic Orchestra, the Yomiuri Nippon Symphony Orchestra, the Japan Philharmonic Orchestra, the Tokyo Symphony Orchestra, the London Philharmonic Orchestra and the Astana Opera Orchestra. He also played with conductors Zoltan Kocsis, Ken-Ichiro Kobayashi, Jonathan Nott, Jun Maerkl, Sylvain Cambreling, Janos Kovacs, Alan Buribaev and John Axelrod. He has performed not only in Japan, but also in Hungary, the United States, France, Germany, Austria, Switzerland, Greece, Romania, the Czech Republic, Poland and China. He graduated at the top of his class from Tokyo College of Music and went on to finish graduate school there.
In 2016, his album "La Campanella" was released from Universal Music in July, and his solo recital titled "Miyuji Kaneko challenged Five Great Piano Sonatas!" was held in September. In August 2017, he served as a juror on the special screening committee for Bartók World Competition for Children and also a juror for the competition in Budapest in November.
He has been acting as the manager of NHK FM weekly radio program "Recital Nova" and introducing the young "nova" artists since April 2018. A Honorary Citizen of Kismaros (Hungary). A Steinway Artist.

Miyuji Kaneko Official Website
The Japan-Hungary Friendship 150th Anniversary Project
Yamaguchi Cultural Program Supported Event
●Organizer: Yamaguchi Kirameki Foundation Akiyoshidai International Art Village
●Supported by Yamaguchi Prefecture, Yamaguchi Board of Education, Mine City, Mine City Board of Education, Cultural Association of Yamaguchi Prefecture, Embassy of Hungary
Contact
If you have any questions, we accept by phone or email.
Please feel free to contact us(except on closed days).
TEL: +81-(0)837-63-0020 
(Reception time: 9:00〜17:00) E-mail: