Persepolis
-Tape Music in Akiyoshidai –
concert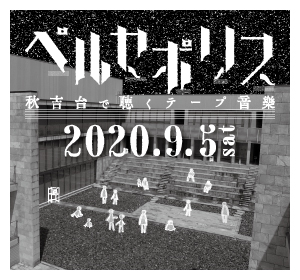 It shows the true worth of electronic music!!
Can you stand this thundering noise?!
A concert for one night only creating a huge sound space at the "courtyard" located in the center of AIAV's main building.

Mainly contains 'Persepolis' by "Genius" Xenakis as Japan Premier, this concert takes up composers who are closely related to AIAV. The various noise surround you from speakers at courtyard!!
"Persepolis – Tape Music in Akiyoshidai -" has been awarded 'the 20th Keizo Saji Prize for 2020' by The Suntory Foundation for the Arts!
>>News page
Information
Date
5th September, 2020 (Sat.)
17:30 Start
Venue
Akiyoshidai International Art Village Concert Hall and Courtyard
Ticket
General 2,000yen
Youth(25years old and younger) 1,000yen
FN members 20% discount
belongings
Please have long sleeve clothes and insect repellant depending on the weather of the day.
Flyer
PDF
Management
Organizer: Akiyoshidai International Art Village
Grant: KAKEHASHI foundation
Cooperate: naya collective Ltd.
Support: Yamaguchi Prefecture, Yamaguchi Board of Education, Mine City, Mine City Board of Education, Cultural Association of Yamaguchi Prefecture
Program
Talk: About attractiveness of Tape music (tentative title) / Sumihisa Arima, Tomomi Adachi
Icon on the Source of White Noise / Joji Yuasa
La Fabbrica Illuminata / Luigi Nono
Persepolis / Iannis Xenakis [*Japan Premier]
Ticket
Ticket agency
Akiyoshidai International Art Village Tel:0837-63-0020
Ticket reservation is available only at AIAV.

Before buy a ticket, please read Measures to prevent the spread of infection and understand the content enough.
Ticket Reservation Form (Jump to Japanese page)
Performer
Sumihisa Arima [electronics]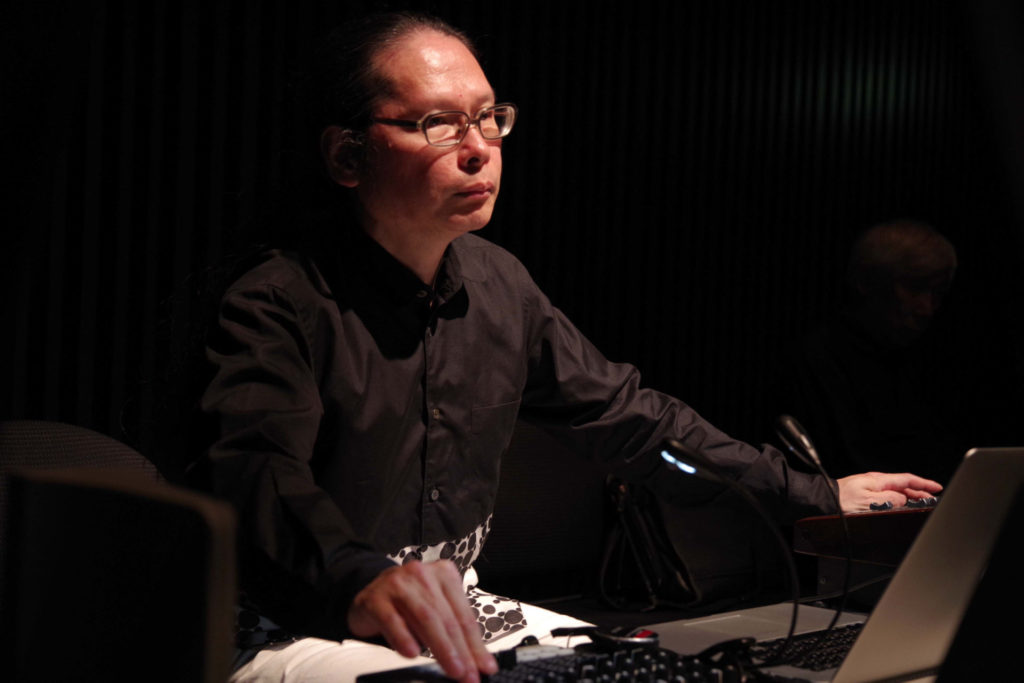 Born in 1965. Developed wide ranged activities including noise music, electronica and the contemporary music utilizing the computer and electronics. As a soloist or member of chamber music ensemble, He has a high reputation for performing electronic sound and sound technology at many concerts such as "SUNTORY HALL Summer Festival" or "composium". He received the 63rd new face award of 'Minister of Education Award for Fine Arts'. In 2012, he created a contemporary music ensemble "Tokyo Gen'On Project" with musicians who are active in contemporary music field both in and out of Japan. Their first concert won the 13th Keizo Saji Prize. A member of Tokyo Sinfonietta.
Not only having sessions with many experimental musicians and Jazz musicians such as Sugadairo and Shun Ishikawa, but he also collaborated with visual artists such as "The Group 1965" includes Makoto Aida and Tsuyoshi Ozawa.
An associate professor at Tezukayama Gakuin University, a part-time lecturer at Kyoto City University of Arts.
Tomomi Adachi [direction]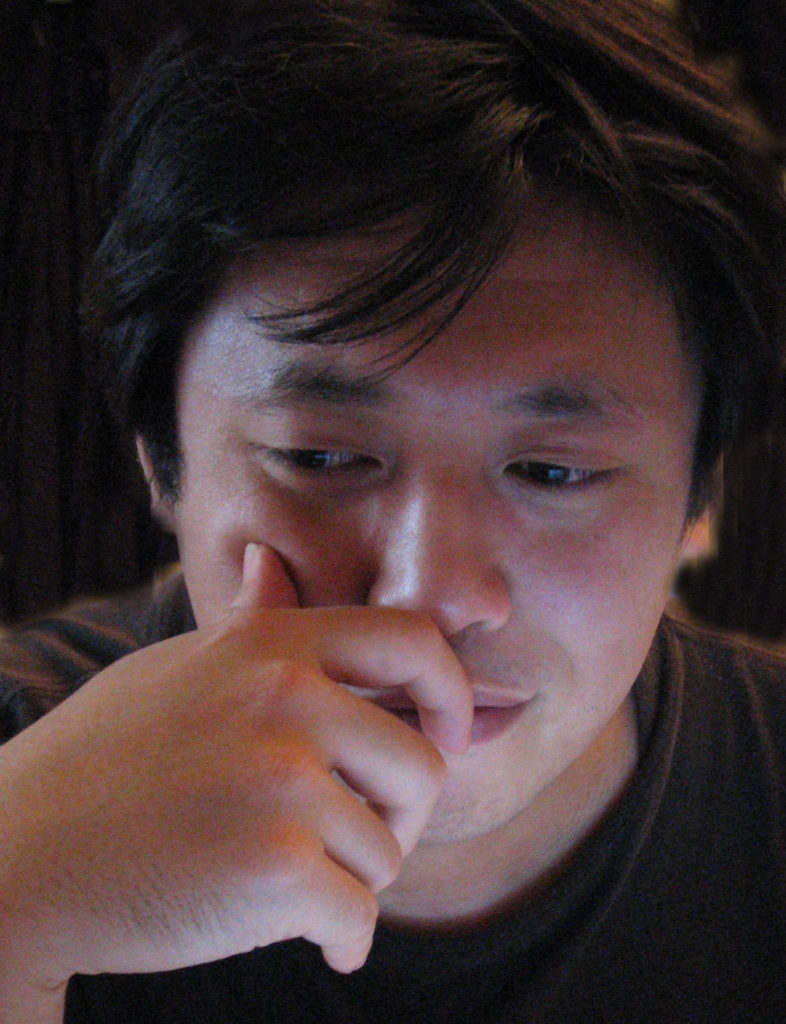 He is focusing his activities on solo performance with voice, computer, and self-made instruments. He is active in a wide range and collaborated with Jaap Blonk, Akira Sakata, Jennifer Walshe, Yuji Takahashi, Toshi Ichiyanagi, Kim Itoh, contact Gonzo and Neko Hiroshi. Also implements a large-scale project with non-musicians. Using a self-made physical interface, brain wave, artificial satellite, telepathy and fracture, he performed at many concerts such as Tate Modern, IRCAM/Centre Pompidou, Akademie der Kuenste Berlin. He was awarded the DAAD invited composer for Berlin 2012. Directed "Europera 5" at SUNTORY HALL Summer Festival in 2007. He won the Award of Distinction at Ars Electronica (Austria) Digital Music & Sound Art section in 2019. Currently living in Berlin.
Maki Ota [soprano]
Studied vocal music at the Doshisha Women's College of Liberal Arts. Finished the master course of vocal music in the graduate school of the Osaka College of Music.
After she was active as a member of the Philharmonic Chorus of Tokyo, studied in Roma using the Program of Overseas Study for Upcoming Artists by Agency for Cultural Affairs.
She performed at many concerts such as Fondazione Isabella Scelsi, Nuova Consonanza Festival in Rome, the Summer Festival of the Suntory Art Foundation, Takefu International Music Festival, Tokyo Opera City recital series "B→C", regular concert by Izumi Sinfonietta Osaka, Nuit Blanche Kyoto.
Also, she took part in theatrical productions such as a music play "palace of the senses" and "Yasei 'Noh'" by the artist Yasumasa Morimura at Theatre E9 Kyoto.
A part-time teacher at Kobe Univercity. A member of Ensemble Kujoyama.