Mono-sax x Masato Kumoi
Classical Saxophone Concert
concert
The world of French music by 10 Saxophones
Invite Masato Kumoi, who led the Japanese saxophone world, as a soloist, Mono-sax, the saxophone ensemble formed mainly by local musicians, will showcase the essence of French music, including Debussy's rhapsody.
Information
Date
23rd November, 2020
14:00 Start / 13:30 Open
Venue
Akiyoshidai International Art Village Concert Hall
Price
Adult 2,000yen
Youth(25 years old or younger) 1,000yen
FN member 20% discount
Performer
Masato Kumoi
Mono-sax
Flyer
PDF
Management
Organizer: Akiyoshidai International Art Village
Support: Yamaguchi Prefecture, Yamaguchi Board of Education, Mine City, Mine City Board of Education, Cultural Association of Yamaguchi Prefecture
Program
Ravel: Trois beaux oiseaux du Paradis*
Lantier: Andante et Scherzetto
Kabalevsky: From Suite "The Comedians"
Canteloube: Chants d'Auvergne*
[Talk] Masato Kumoi x Takayuki Sasaka – An inlet and an outlet of Inspiration –
Debussy: Rapsodie for Orchestra and Alto Saxophone*
*soloist Masato Kumoi
Ticket
Ticket Agency
Akiyoshidai International Art Village Tel:0837-63-0020
*Ticket reservation is only available at AIAV.
Related Event
Masato KUMOI Saxophone Open Class
The open class and lesson by a special guest, Mr.Masato Kumoi will be held a day before the concert.
Players
Masato KUMOI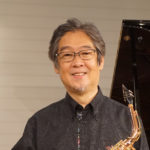 After his graduation from Kunitachi College of Music, he went abroad to study in the graduate school of Northwestern University. He won prizes at the 51st Japan Music Competition and the 39th Geneva International Music Competition. In 1984 he had his first recital at Tokyo Metropolitan Hall. In 2017, he performed "Rapdodie" by Debussy with Jun Märkl and Kunitachi College of Music Orchestra. In 2018, he was invited to the North American Saxophone Alliance as Kumoi Quartet and had a performance and a masterclass. Joined in "Saito Kinen Festival in Matsumoto" in 2005 and 2014. In 2020, he performed "Ballade" by Tomasi with Masahiko Enkoji and Osaka Philharmonic Orchestra. He has released his Solo CDs such as "Simple Songs" ("Specially selected" by Record Geijutsu Magazine), "Tone Studies" ("Specially selected" by Record Geijutsu Magazine) and "Musique Française pour Saxophone Alto et Piano". He leads the Masato Kumoi Saxophone Quartet. Currently he teaches at Kunitachi College of Music, Soai University and Nagoya University of The Arts.
Mono-sax
Starting with giving a preview in 2012 with Saxophone Quartet by players who studied music at specialist courses, Mono-sax has concerts every year with various size of the Saxophone ensemble from solo to a large ensemble. They mainly deal with original works for Saxophone and arrangement works, and in particular, take up and sublimate saxophone works that are still considered to be minor.
One of their distinctive programs is "Mono-sax Baritone Club" that purposes to improve the Baritone Saxophone players' skill, the ensemble formed by only Baritone Saxophones is often took up at their concerts.
They are having many concerts such as mainly independent concerts at Shimonoseki City Lifelong Learning Plaza DEARM SHIP, also "Classical Saxophone Concert" and "Otsukimi Concert" at AIAV and Gallery concert at Shimonoseki City Art Museum.
Player: Takayuki SASAKA, Sinji KOMORI, Kosei FUKUMITSU, Kan OHSHIMA, Takanori ISHIKAWA, Hironori UWABE, Kiyomi OHTSUKA, Kazunori HARADA, Miwako UWABE