The Horn Studio 2021 -Akiyoshidai Horn Camp- Gala Concert
seminar
Gala concert by "The Horn Studio 2021" lecturers. Enjoy special program by musicians who are active on the front lines!
Information
Period
Saturday, 28th August 10 a.m.- Thursday, 2nd September 4 p.m., 2021
*Schedule depends on classes.
Application Period
From 12th July, 2021
Venue
Akiyoshidai International Art Village (50 Akiyoshi, Shuho-cho, Mine city, Yamaguchi)
Date
Sunday, 29th August, 2021
Start 14:00 / Open 13:15
Venue
Akiyoshidai International Art Village Concert Hall
Price
Adult 3,000 yen
Youth (25 years old or younger) 1,000 yen
— FriendsNet members 20% discount
*Preschool children are not allowed to enter.
Player
Nobuaki FUKUKAWA, Tsutomu MARUYAMA, Junji TAKEMURA, Yuji UEZATO, Yu SUZUKI, Tomoko SAWANO
Flyer
in preparation
Ticket information
Release date: Monday, 12th July, 10:00

Ticket Agency
Akiyoshidai International Art VillageTel:0837-63-0020
Ticket reservation is only available at AIAV via Phone call or Online form (in Japanese page)
Program
G.Rossini : Le Rendez-vous de Chasse
B.Stark : Suite
D.Popper : Requiem
W.Pirchner : Born for Horn
C.Förster : Horn Concerto
arr. S.Genda : Furusato no Shiki
A.Reed : El Camino Real
*There is a possibility that musics may be changed.
Player
Nobuaki FUKUKAWA
− I acclaim him as "The great performer, and the artist." − Riccardo Muti
− He is the musician who has a natural talent and charismatic. − Paavo Järvi
One of the most active musicians in the world. He also contributed to the orchestra world as a principal Horn of NHK Symphony Orchestra.
Won the 1st prize at Horn category of the 77th Music Competition of Japan.
As a soloist, he played with NHK Symphony Orchestra, Orchestra di Padova e del Veneto, City of Kyoto Symphony Orchestra, the Japan Philharmonic Orchestra, Tokyo Philharmonic Orchestra, Osaka Symphony Orchestra, Hiroshima Symphony Orchestra and others.
He was invited to various places in Japan, U.S. and Europe, also performed at music festivals such as "la Biennale di Venezia" "La Folle Journée au Japon" "Spring Festival in Tokyo" as a soloist.
Many CDs are released from KING RECORD and Octavia Records, and selected "Record Geijutsu selected CD." Adjunct associate professor of Tokyo College of Music.
Tsutomu MARUYAMA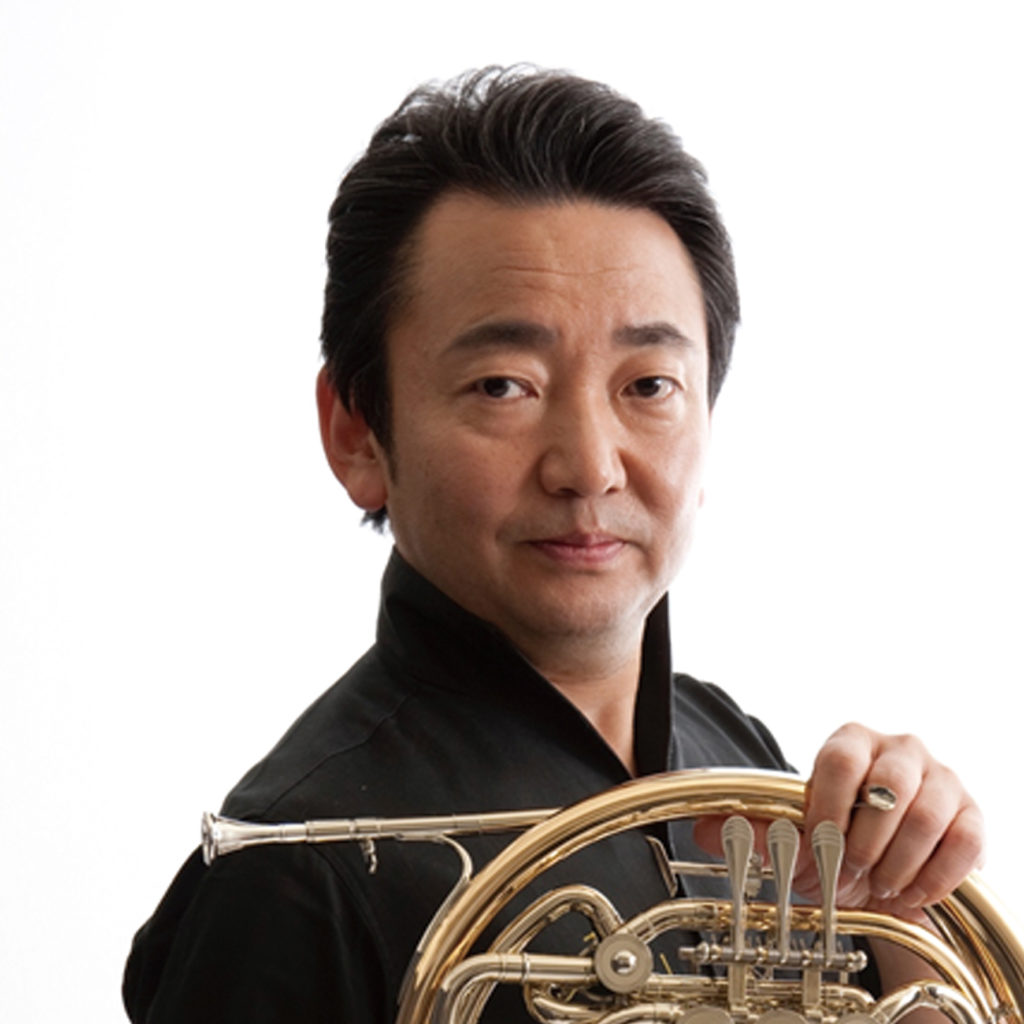 A Hornist. Playing the horn since 13 years old. Studied the horn under Hiroshige Wakata and Yasuyo Ito. Graduated from Musashino Academia Musicae. He joined Japan Philharmonic Orchestra while in the college. He won the 1st prize at Horn category of the 8th Japan the All Japan Wind and Percussion Competition in 1991. He went to Geneva in 1993 and studied under B.Schneider.
He performed at Yomiuri Nippon Symphony Orchestra from 1990 to 2000 as a Principal Horn. He was invited to many festivals as a guest artist around the world, and many CDs were released as solo, chamber music or orchestra. He is now active as a soloist and chamber music player, a guest principal Horn at the Japan Philharmonic Orchestra, and a member of Kioi Hall Chamber Orchestra Tokyo, Horn Ensemble "Tsunobue Shudan", Custom Winds Quintet. He released CDs "La Renaissance", "La Resonance" and "Elegie Lointaine" as his solo, "Agora" as Custom Winds Quintet, and more many CDs with Tsunobue Shudan. He also supervised and joined music scores such as "Studio Ghibli Collection", "Ensemble de Disney", "Duo de mo! Torio de mo! Tanoshiku Ensemble (For Duo! For Torio! Ensemble with fun)", "Popular & Classical Masterpiece collection for Horn", "Maruyama Tsutomu Disney Collection", "Jouzu-ni naritai! Kangakki (Want to improve! Winds instruments) Vol.3 Horn". He wrote "Power Up Wind Orchestra -Horn-." He teaches as an associate professor at Musashino Academia Musicae. The executive director of Japan Horn Society.
Junji TAKEMURA
Playing the horn since 13 years old. Graduated from Kunitachi College of Music in 1993. Won the 1st prize at the 11th Japan Wind and Percussion Competition in 1994. After that, he sits on well-known music competitions jury in Japan. ​He joined the Japan tour of Lucerne Festival Orchestra with Claudio Abbado in the autumn in 2006. Moreover, he is active in various fields as soloist, a member of Tokyo Horn Quartet and chamber music groups.
Studied Horn under Kaoru Chiba, Masayuki Yasuhara, Yasuhisa Ohsaka, Bruno Schneider, and Ab Koster.
After playing at Siena Wind Orchestra, Tokyo City Philharmonic Orchestra and Tokyo Symphony Orchestra, he taught Horn as an associate professor at Aichi University of the Arts from 2009 to 2013. He worked in Korea from 2013 to 2017 not only as a principal horn and a soloist of Daegu Symphony Orchestra, but also performed at chamber music and taught at Keimyung University as part-time lecturer.
Back to Japan in November in 2017. He joined Gunma Symphony Orchestra as a principal horn and started his activity in Japan again.
Yuji UEZATO
Born in Okinawa. Graduated from Tokyo College of Music. While he is still in college, he was selected by auditions and played at concerts as a soloist and a member of chamber music, and also "RAINBOW 21" Suntory Hall Debut Concert.
Participated in Music Masters Course in Kazusa in 2001. Won the 1st prize at Chamber Music category of JILA Music Competition in 2002. Studied horn under Tomotsugu Miyake, Kozo Moriyama, and Hitoshi Imai. He played at Siena Wind Orchestra from 2006 to 2016, and at Gunma Symphony Orchestra from 2017 to 2019. He currently a hornist at Yomiuri Nippon Symphony Orchestra. A member of Alexander Horn Ensemble Japan and Zoorasian Brass.


Yu SUZUKI
Born in Gunma. Graduated from Tokyo University of the Arts. Performed at YAMAHA Wind Instruments Debut Concert in 2014. Won the 1st prize at the Brass Quintet category of the 10th Jeju International Brass Competition as Menagerie Brass Quintet. Studied Horn under Takanori Takahashi, Kozo Moriyama, Takeshi Hidaka, Takato Saijo, Ryosuke Tomono and Tsutomu Isohata. A member of Menagerie Brass Quintet, Cor Ensemble VENUS, ALEXANDER HORN ENSEMBLE JAPAN, The Horn Square, Tsunobue Shudan and Japan National Orchestra. Teaching Horn at Yamano Music Wind Crew. After a part‐time lecturer and hornist of and Geidai Philharmonia and a member of Tokyo Symphony Orchestra, currently she is a member of Tokyo Metropolitan Symphony Orchestra.
Tomoko SAWANO
Lives in Berlin. Born in Tokyo. Playing the piano since 3 years old. She studied at the Tokyo College of Music High School and Tokyo College of Music under Katsuko Miura and Kazune Shimizu. Won the 3rd prize at the Special Grade of the PTNA Piano Competition in 1992. In 1993, She moved to Germany to study at the University of the Arts, Berlin under Prof.Rainer Becker. In 1995, during her studies in Germany, she was awarded a Diplom at the International Music Competition Maria Canals of Barcelona. Since high school Tomoko has been dedicated to ensemble performance. She places importance not just acting as an accompanist, but on serving as an essential partner during performances. With flexibility and a resolute musical sense she possesses great ensemble abilities that allow her to become one with her co-performers. She is highly regarded for her ability to draw out the musicianship of her collaborators. As a result she receives offers from musicians all over the world for CD recordings, concert tours, and recitals.
Additionally, she was invited as an official pianist at competitions and workshops across the world including the International Instrumental Competition Markneukirchen (Germany), the International Music Competition Munich(Germany), the Philip Jones International Competition in Guebwiller (France), the International Trombone Festival (Denmark), Pacific Music Festival Sapporo (Japan), Mondoñedo Workshop (Spain), TubaMania International Festival (Thailand). She has won many best pianist awards at these events.
Additionally, she has served as brass and wind répétiteur at both the University of the Arts, Berlin and the Franz Liszt college of Music, Weimar from 1998. She receives extremely high praise for her work in these schools and many of her students have won prizes at international competitions.