Residence Support "trans_2015-2016″
trans_2015-2016
Period:2016.1.16 - 3.10[55days]
The prefix 'trans' means to go beyond, get across, cross, exchange, change and convert.
The Residence Support Program provides a time and place for artists to experience new encounters and carry out experiments to guide their future projects. Participating artists are expected to bring new ideas to the local culture and people while they, in turn, will hopefully acquire new perspectives through these fresh encounters. As a result of the residence program, the artists will convey their new experiences, gathered from the local lifestyle and our particular geographic situation, to their next destination. We hope that the residence program at Akiyoshidai International Art Village becomes a space for artists to go beyond cultural borders and expand their outlooks, exchange their unique understandings and establish relationships with fellow artists.
AIAV has supported over 150 domestic and international artists since its open in 1998. This fiscal year we will invite 6 artists from 6 countries. Over the period of 55 days of their stay, the artists will work on the theme "The Features of This Land", encountering with Yamaguchi's environment, culture and local people, all of which are different from their own.
Information
| | |
| --- | --- |
| Theme | "The Features of This Land" |
| Residency period | 16 January (Sat) – 10 March (Thu), 2016 [55 days] |
Events schedule
Open studio
Artists invite people to their studio.
30 Jan (Sat), 2016 14:00-16:00
Opening reception
27 Feb (Sat), 2016 17:30
Exhibition
28 Feb (Sun) – 7 Mar (Mon), 2016 10:00-17:00
About the selection
Selection through open call
There were 299 applicants (23 from Japan, 276 from outside Japan) for "trans_2015-2016" program. Three artists mentioned above were selected at the selection committee meeting held at AIAV.
Recommendation by partnership organization
The below-mentioned overseas partnership organization recommended one artist each for "trans_2015-2016″ program.
Gyeonggi Creation Center(South Korea), Taipei Artist Village(Taiwan), Finland Center(Finland)
Supported by the Agency for Cultural Affairs Government of Japan in the fiscal 2015
Organized by Akiyoshidai International Art Village
Supported by Yamaguchi Prefecture, Yamaguchi Board of Education, Mine City, Mine City Board of Education, Ambassade de France au Japon / Institut Français du Japon, Embassy of Hungary, Korean Cultural Center Osaka, Fukuoka Branch Taipei Economic and Cultural Office in Osaka, Embassy of Finland, The Finnish Institute in Japan
Participant
Donald Abad
Nationality / France
Genre / Visual Art
Support Program(trans_) Period:2016.1.16~3.10
Tamás Szvet
Nationality / Hungary
Genre / Installation, Sculpture, Media art
Support Program(trans_) Period:2016.1.16~3.10
Other Programs
Light takes you into the World of Art
Akiyoshidai International Art Village
12th – 19th- November- 2017- 18:00 – 21:00 (Admission Free)
Teppei Yamada
Nationality / Japan
Genre / Visual art, Installation
Support Program(trans_) Period:2016.1.16~3.10
Program Workshop "Look for Sound of Akiyoshidai" Venue:Concert hall-Akiyoshidai_Akiyoshido-cave Date: Saturday 13 Feb- 2016 10:00 – 15:00
Program Overseas Dispatch Program Exhibition Venue:Akioyshidai International Art Village Gallery Date:24th March-6th May 2019 10:00-17:00
Other Programs
trans_2018-2019 Exchange Program (Singapore)
Insane Park
Nationality / Republic of Korea
Genre / New Media, Painting
Support Program(trans_) Period:2016.1.16~3.10
Kuenlin Tsai
Nationality / Taiwan
Genre / Installation
Support Program(trans_) Period:2016.1.16~3.10
Mari Mäkiö
Nationality / Finland
Genre / Photography
Support Program(trans_) Period:2016.1.16~3.10
Publications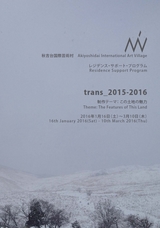 Residence Support "trans_2015-2016″Report
Period:
2016.1.16~3.10[55days]
Movie