Eraser Stamp Workshop
"My Own Land" on Tote bag
workshop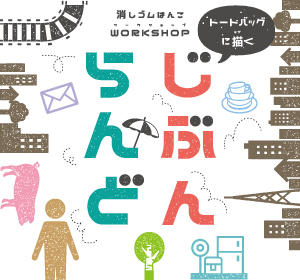 Let's make your Original Tote Bag with Eraser Stamp
With hand carved eraser stamp artist, Miyabi Fujishima, we will make an own original tote bag using eraser stamps. Don't you like drawing picture? Don't worry! You can just combine face parts to make your character. Combining your character's stamp carved by yourself and existing stamps, and Enjoy making your "Own Town" on a tote bag!
Information
Date&Time
17th January, 2021 (Sun)
Morning class: 10:00-
Afternoon class: 14:00-
Reception
From 30 mins before each class starts
Venue
Seminar Room 2
Eligible participant
Anyone who is in the 4th grade or older
Fee
Admission Free [Reservation required]
Apply
Please apply through the online application form (from the Japanese page) with applicant's name, address, gender, phone number, date of birth.
Things to bring

To prevent infection disease, a room will be well ventilated regularly. Please bring coats or jackets to keep yourself warm.
Flyer
PDF
Lecturer
Eraser sculptor / Graphic designer
FUJISHIMA Miyabi
Stared her career as a designer in 2002, making "Eraser stamp" in 2012. She acquired the childcare qualification and works at a nursery because she became interested in Family Welfare through a craft class for children. Now she is doing Child and Family support while conveying the fun of craft. She is a representative for her self-brand "Miyabi-land" which expands businesses of design, eraser stamp, craft class, educational materials for childcare, family support.
Website: https://miyabiland.com